Product Description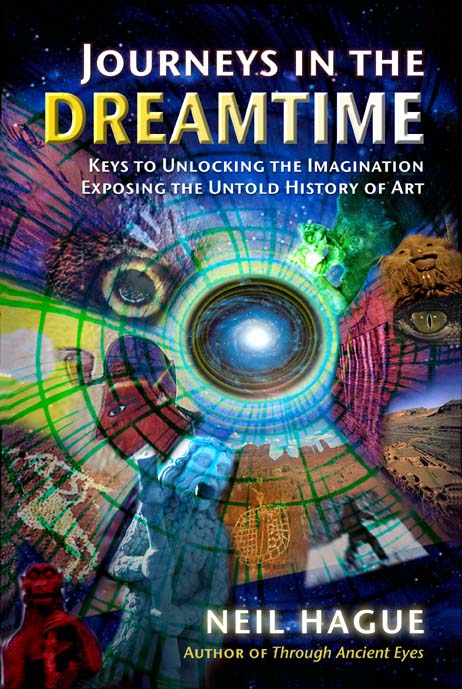 "Neil Hague transcends his calling by producing this kaleidoscopic chronicle to augment his piercingly exquisite visionary artwork. Rarely has a book given me goose bumps; this one did at times."
Ellis Taylor Author of Living in the Matrix
Journeys in the Dreamtime explores the illusion of time and the ancient myths that encapsulate stories of interdimensional forces, hidden worlds and sacred places? – as understood by Earth's greatest visionaries. Using over 100 illustrations, the artist and author Neil Hague uncovers a wealth of information that connects art to alchemy, and our DNA to so-called alien civilisations. From the legends of the Aboriginal Dreamtime to the concept of The Matrix, this book takes us on a journey into the timeless realms of the imagination – to reveal the untold history of art.
Following on from his acclaimed book Through Ancient Eyes, he shows how all religions, inspired art movements and most of the movie blockbusters we flock to today, are teaming with archetypal symbols and legendary stories of good versus evil. They are the works of what Neil calls, the myth makers, an ancient brotherhood that has influenced our world for thousands of years. Using prehistoric pictographs made by Bronze Age shamans, to the occult ceremonies of Freemasonry, this book reveals the multidimensional nature of the Universe; and how our imagination is the key to creating the reality that we desire. Featuring some of his latest artwork, as well as paintings produced for David Icke, this superbly illustrated book will unlock the creative imagination within everyone who has the vision to be their own myth maker.
Get ready for a roller-coaster ride through different worlds, and into the deepest recesses of the mind, as Neil offers his own visions of the past, present and future; including the hidden meanings behind the legends associated with ancient gods, superheroes and the star systems that have inspired humanity – since the beginning of time.